Doomsday Luxury Bunkers
More details on Nomad Bunkers coming soon...
Nomad Bunkers™ are patent-pending prefabricated luxury bunkers created as modular autonomous shelters for catastrophic events to facilitate its inhabitants' survival with full autonomy of up to 12 months.
This luxury bunker designed by award-winning firm, ABIBOO Studio, takes advantage of the technology in construction for extreme environments and Space Architecture.
To ensure survival in adverse conditions during long periods, ABIBOO Studio designed this emergency shelter based on their experiences in extreme environments, such as DBX Bunkers, Nüwa City, and Onteco, which has been featured across the world in media outlets such as Forbes, Business Insider, CNN, BBC, Popular Mechanics, Wired, Space.com, or CNET among other.
The founder of ABIBOO Studio, the Spanish architect Alfredo Munoz, is also a Space Architect and a Member of the Space Architecture Technical Committee at the American Institute of Aeronautics and Astronautics.
Designed in the United States, and manufactured in the European Union, Nomad bunker is a plug & play bunker with the state-of-the-art technology of Space Architecture.
The shelter can accommodate five people and is completely preabricated in stainless steel. This composition mitigates the consequences of potential climatic, chemical, biological, or even nuclear calamities.
Despite its strength and robust construction, the shelter transmits warmth, comfort, relaxation, and luxury, thanks to the interior design and distribution of the spaces.
The bunker includes an approximate floor area of 300 Sq.Ft (30 m2). and the sleeping quarters provide flexibility and houses five people. A screen closes the area to have more privacy. If needed, two additional adults or kids can sleep on the sofa, accommodating a maximum of seven people.
The construction of this bunker comprises a round stainless steel culvert, which is ideal for distributing the load. A network of ventilation ducts with an NBC and ULPA filtration system is also provided.
The filters extract the carbon dioxide inside and, replace the stale air, and remove even nuclear dust particles.
An additional decontamination system for air purification is located at the airtight cabin at the bunker's entrance. This room prevents the entry of pollutants into the main home space.
Nomad doomsday shelter also accommodates space for food supply with cold storage for food and seeds and a storage vault with a capacity for freeze-dried packaged food. The WC, shower and bathroom sink are separate to provide additional flexibility.
The bunker is conceived with a modular configuration and includes a hydroponic garden, which acts like a greenhouse. The hydroponic solution increases efficiency and reduces maintenance. This system requires less water and space than soil-based techniques, and it avoids pesticides. This system allows for the structure to operate as an in-door's farm, even if not used as a shelter.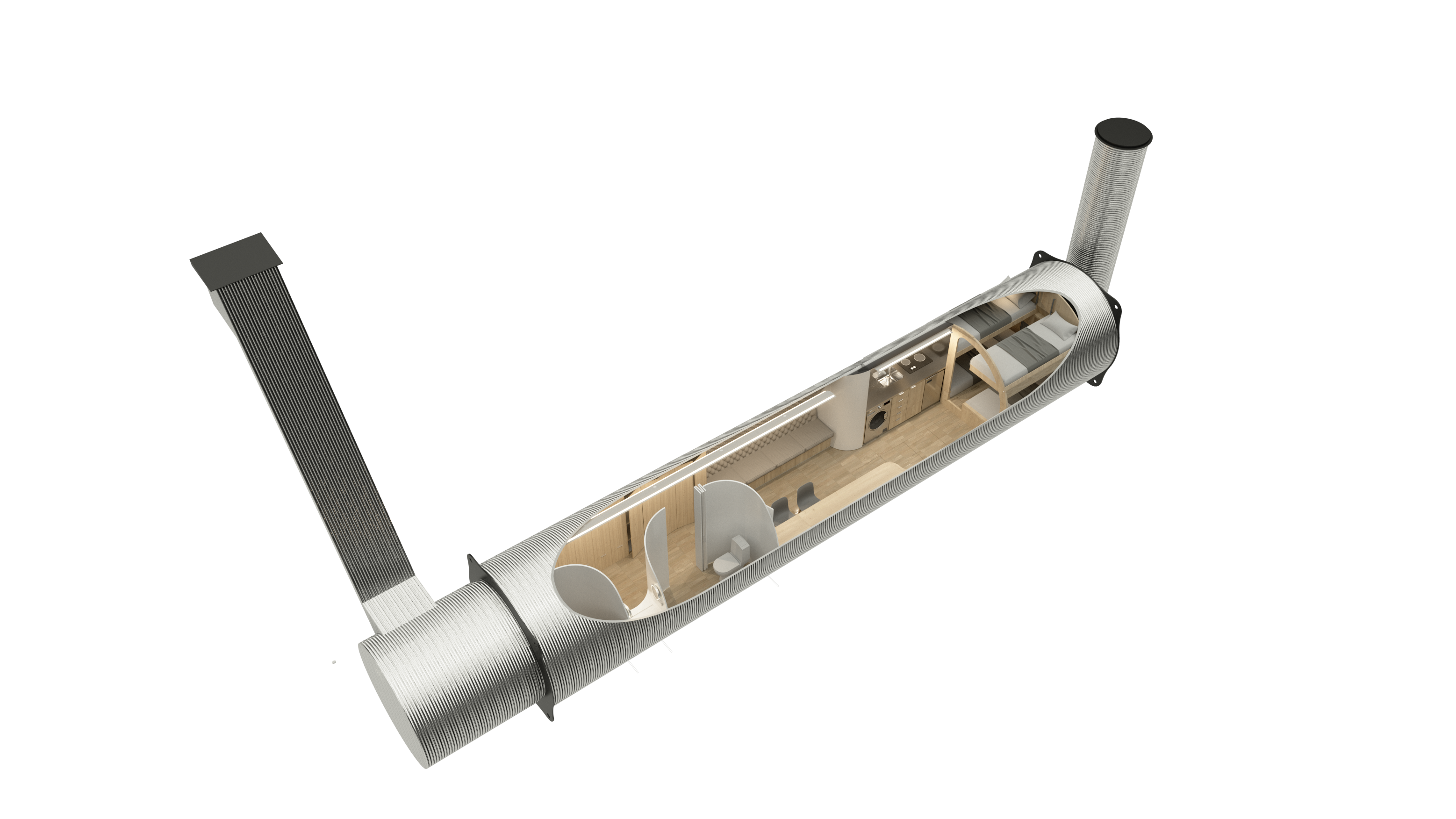 Manufactured in Spain, the Nomad Bunker can be transported to any country worldwide.
The installation is easy by any local contractor that has access to a crane service, an excavator, tamper, and skid steer. the average time for a complete installation of the Nomad shelter should not take longer than three days, as it is a plug & play modular solution and is very easy to install.
Depending on the location, a permit or municipal approval might be required but in many situations, it is not needed. Soil analysis by a local engineer is recommended. Contact us so we can guide you.
The bunker can be underground to leverage the natural strength of the earth as additional protection. If installed properly, it holds up to 15' (5 meters) of topsoil.
Additionally, the bunker can be placed above the ground. In this scenario, it serves as a shelter and as a secondary home for accommodating temporal guests.
For more details on Nomad Bunkers, pricing, and delivery schedule, please contact us below. We prioritize confidentiality!